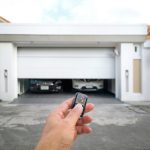 When it comes to creating an energy-efficient home, people often focus on insulation, energy-efficient appliances, and windows. However, one area that is sometimes overlooked is the garage, particularly the garage door. In this blog post, we will discuss why energy-efficient garage doors are important and how they can contribute to overall energy efficiency in your home.
Reducing Heat Loss and Gain
Garage doors are typically large and made of materials that are not well-insulated, such as steel or wood. As a result, they can be a significant source of heat loss during the winter and heat gain during the summer. This can lead to energy waste and increased utility bills as you constantly need to heat or cool your home to compensate for the temperature fluctuations caused by an inefficient garage door.
Energy-efficient garage doors are specially designed with insulation layers and weather stripping materials that help reduce heat transfer. This insulation acts as a barrier, preventing the outside temperature from affecting the indoor climate. By keeping the garage at a more stable temperature, energy-efficient garage doors can potentially reduce the workload on your heating and cooling systems, resulting in lower energy consumption and cost savings.
Enhancing Energy Efficiency of Attached Spaces
Many homes have living spaces that are directly attached to the garage. This can include bedrooms, family rooms, and even home offices. In such cases, an energy-efficient garage door becomes even more crucial. It helps create a buffer zone between the conditioned living spaces and the unconditioned garage environment.
With an energy-efficient garage door, you can minimize the transfer of hot or cold air between these spaces. This means that the outside temperature will have less impact on the indoor comfort of your home. Whether it's a scorching summer day or a chilly winter night, an energy-efficient garage door helps maintain a more comfortable and consistent temperature in the attached spaces.
Improving Durability and Longevity
Energy-efficient garage doors are not only designed with insulation in mind but also with high-quality materials and construction. This results in a more durable and long-lasting product. The insulation layers help protect the door from extreme temperatures, moisture, and other environmental factors, thus reducing the risk of warping, corrosion, and other types of damage.
By investing in an energy-efficient garage door, you are investing in a product that will maintain its performance and appearance over time. This means fewer repairs and replacements, ultimately saving you money in the long run.
Reducing Environmental Impact
Energy-efficient garage doors also contribute to a greener and more sustainable future. By decreasing your energy consumption, you are reducing your carbon footprint and helping combat climate change. The less energy you use for heating and cooling, the fewer greenhouse gas emissions are released into the atmosphere.
Additionally, energy-efficient garage doors can be made from environmentally friendly materials, such as recycled steel or wood harvested from sustainable sources. This further reduces the environmental impact of manufacturing and disposal.
Enhancing Home Value
Increasingly, homebuyers are seeking energy-efficient features when buying a house. By installing an energy-efficient garage door, you are not only improving your home's energy efficiency but also its value. Potential buyers are likely to appreciate the long-term cost savings and comfort benefits associated with an energy-efficient garage door, making your property more attractive in the market.
Summary
An energy-efficient garage door is a valuable investment for any homeowner concerned about energy efficiency, cost savings, and environmental impact. By reducing heat loss and gain, enhancing energy efficiency in attached spaces, improving durability, and reducing environmental footprint, energy-efficient garage doors offer numerous benefits. Moreover, they can increase the value of your home. So, when considering energy efficiency improvements, don't overlook the importance of investing in an energy-efficient garage door.
Need a New Garage Door? Let Us Help!
Started in 1987, Action Door Service specializes in the sale, installation, and repair of garage doors. Family owned and operated, we are a master dealer for Amarr and professional installer for LiftMaster. We also install matched wood doors for HOAs. Action Door Service also offers a wide variety of garage doors and openers to the Sacramento area. Customer satisfaction is our only goal! Call us today for your garage door needs!