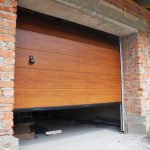 Choosing the right garage door for your home in Rancho Cordova not only enhances its appearance but also adds functionality and value to your property. With various garage door styles available, it's important to consider factors such as architectural style, maintenance requirements, and personal preference. In this blog post, we will discuss some of the best garage door styles for homes in Rancho Cordova.
Traditional Raised Panel
The traditional raised panel garage door style is a popular choice for many homes due to its timeless and versatile design. This style features a series of rectangular panels that are raised and recessed, creating depth and dimension. The clean lines and symmetrical pattern of the raised panels complement a wide range of architectural styles, from Colonial to Ranch.
Traditional raised panel garage doors are available in a variety of materials, including steel, wood, and composite. Steel doors are low-maintenance and durable, while wood doors offer a classic and natural aesthetic. For homeowners who desire the look of wood but prefer less maintenance, composite doors can be a great option.
Carriage House
If you're looking to add rustic charm and elegance to your Rancho Cordova home, consider a carriage house garage door style. Inspired by the look of old carriage houses, this style features decorative hardware, such as hinges and handles, that mimic the appearance of traditional carriage doors.
Carriage house garage doors are available in various materials, including steel, wood, and vinyl. Steel doors offer durability and require minimal maintenance, while wood doors provide a warm and authentic aesthetic. Vinyl doors are another popular option, as they are low-maintenance, energy-efficient, and offer the look of wood without the upkeep.
Contemporary
For homeowners with a modern or contemporary home in Rancho Cordova, a sleek and minimalist garage door style might be the best choice. Contemporary garage doors often feature clean lines, large glass panels, and minimal embellishments. This style is ideal for showcasing architectural elements and allowing natural light to enter the garage space.
Contemporary garage doors are available in materials such as aluminum, glass, and steel. Aluminum doors are lightweight, corrosion-resistant, and can be customized with different finishes. Glass doors combine a modern aesthetic with the functionality of natural light. Steel doors are a durable and low-maintenance option that can be customized with a variety of colors and finishes.
Custom Design
For homeowners who want a truly unique garage door that complements their Rancho Cordova home, a custom design might be the best choice. Custom garage doors can be tailored to match the architectural style and personal preferences of the homeowner. This allows for creative freedom and the ability to create a one-of-a-kind statement piece.
When designing a custom garage door, consider factors such as material, color, texture, and window placement. Work closely with a reputable garage door manufacturer or designer who can bring your vision to life and ensure that the door fits seamlessly with your home's overall design aesthetic.
Considerations for Garage Door Selection
When choosing a garage door style for your Rancho Cordova home, it's important to consider factors beyond appearance. Consider the climate in the area, as well as the level of maintenance required for different materials. Steel doors are typically more resistant to extreme weather conditions, while wood doors may require periodic refinishing or painting.
Additionally, think about the functionality of the garage door. Insulated doors can help improve energy efficiency by regulating the temperature inside the garage. This can be especially beneficial in regions with hot summers and cold winters.
Summary
Selecting the right garage door style for your Rancho Cordova home is a decision that should be made with careful consideration. Traditional raised panel doors offer a timeless appeal, while carriage house doors add rustic charm. Contemporary doors suit modern homes, and custom designs allow for complete personalization. Consider factors such as architectural style, maintenance requirements, and functionality when choosing a garage door style. Ultimately, the best garage door style is one that enhances the appearance and functionality of your home while reflecting your personal style and taste.
Need a New Garage Door? Let Us Help!
Started in 1987, Action Door Service specializes in the sale, installation, and repair of garage doors. Family owned and operated, we are a master dealer for Amarr and professional installer for LiftMaster. We also install matched wood doors for HOAs. Action Door Service also offers a wide variety of garage doors and openers to the Sacramento area. Customer satisfaction is our only goal! Call us today for your garage door needs!