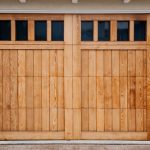 When it comes to choosing a garage door for your home, there are many options available. Two popular choices are carriage house garage doors and traditional garage doors. In this blog post, we will compare the features and benefits of each type to help you make an informed decision for your home.
Carriage House Garage Doors:
Carriage house garage doors, also known as barn-style doors, are designed to resemble the look of traditional carriage house doors from the 18th and 19th centuries. They add a touch of elegance and charm to any home. Here are some of the key features and benefits of carriage house garage doors:
1. Aesthetic appeal: Carriage house doors have a classic and rustic look that can enhance the overall curb appeal of your home. They come in various materials, such as wood, steel, and composite, allowing you to choose the option that best matches your home's architectural style.
2. Customization options: Carriage house doors offer a range of customization options, including different panel designs, window styles, and decorative hardware. This allows you to create a unique and personalized look for your garage door, adding character and enhancing the overall aesthetic of your home.
3. Versatility: Carriage house doors are available in both manual and automatic operation options. This means you can choose a door that suits your preference and lifestyle. Additionally, they come in various sizes to accommodate different garage openings.
4. Durability: Carriage house doors are built to be durable and withstand various weather conditions. Materials like steel and composite offer excellent resistance to warping, rotting, and cracking, making them low maintenance and long-lasting options.
5. Insulation: Many carriage house doors come with insulation options, offering energy efficiency benefits by helping to regulate temperature in the garage. This can result in energy savings and improved comfort for adjacent living spaces.
Traditional Garage Doors:
Traditional garage doors, also known as raised-panel garage doors, are the most common type of garage doors found in homes. They offer a wide range of benefits that make them a popular choice for homeowners. Let's look at some of the features and advantages of traditional garage doors:
1. Affordability: Traditional garage doors are often more budget-friendly compared to carriage house doors. They are typically made of steel or aluminum, which are cost-effective materials while still providing durability and strength.
2. Wide range of design options: Traditional garage doors come in various styles, colors, and finishes to complement the aesthetics of your home. You can choose from different panel designs, window options, and decorative hardware to create a look that suits your personal taste.
3. Low maintenance: Steel and aluminum garage doors require minimal maintenance, making them ideal for homeowners who prefer hassle-free options. These doors are resistant to corrosion, rust, and fading, ensuring long-term durability.
4. Security: Traditional garage doors offer excellent security features, including sturdy locks and reinforced panels. This helps to protect your vehicle and belongings, providing peace of mind.
5. Ease of operation: Many traditional garage doors are equipped with efficient and reliable automatic opening systems. This makes it convenient to open and close the garage door with the push of a button, offering ease of use to homeowners.
Conclusion:
Choosing between carriage house garage doors and traditional garage doors depends on your personal preferences, budget, and the overall style of your home. Carriage house doors offer a rustic and elegant look with customization options, while traditional garage doors provide affordability and a wide range of design options. Both types of doors offer durability and security benefits, so it ultimately comes down to the aesthetic appeal and features that best suit your needs. By considering the features and benefits highlighted in this blog post, you can make an informed decision for your home's garage door.
Got Questions? Let Us Help!
Started in 1987, Action Door Service specializes in the sale, installation, and repair of garage doors. Family owned and operated, we are a master dealer for Amarr and professional installer for LiftMaster. We also install matched wood doors for HOAs. Action Door Service also offers a wide variety of garage doors and openers to the Sacramento area. Customer satisfaction is our only goal! Call us today for your garage door needs!