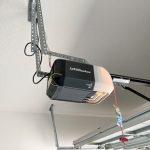 When it comes to renovating your home, there are countless decisions to be made. One aspect that is often overlooked but can greatly enhance the functionality and convenience of your home is the garage door opener. If you are in the midst of a renovation, consider the benefits of installing a Liftmaster garage door opener. Here are some reasons why this upgrade is worth considering.
1. Enhanced Security
One of the key benefits of a Liftmaster garage door opener is the enhanced security features it offers. Liftmaster openers are equipped with advanced security technology, such as rolling code technology and PosiLock, which helps prevent unauthorized access to your garage. These features ensure that only you and your family have access to your garage, providing peace of mind and protecting your belongings.
2. Improved Safety
Safety is paramount when it comes to garage door openers. Older models may lack modern safety features that can prevent accidents and injuries. Liftmaster garage door openers incorporate safety features like infrared sensors and motion detection, which can detect objects or people in the path of the closing door and automatically reverse its direction. This can prevent accidents and injuries, particularly for households with children or pets.
3. Quieter Operation
If you have an older garage door opener, you may be familiar with the noisy and disruptive operation it can produce. Liftmaster garage door openers are known for their quiet operation. They are equipped with advanced technology, including belt or chain drive systems that minimize vibrations and noise. This can greatly enhance the overall comfort and tranquility of your home, especially if your garage is located near bedrooms or living areas.
4. Smart Technology Integration
In today's digital age, incorporating smart technology into your home is becoming increasingly popular. Liftmaster offers garage door openers that can be integrated with smart home systems, allowing you to control and monitor your garage door opener from your smartphone, tablet, or other smart devices. This enables you to open or close your garage door remotely, receive notifications of door activity, and even integrate it with other smart devices in your home. This level of convenience and control is ideal for busy homeowners who are always on the go.
5. Battery Backup
Power outages can be frustrating, especially when you are unable to access your garage. Liftmaster garage door openers come with a battery backup feature, ensuring that you can still open or close your garage door during a power outage. This is particularly beneficial if you live in an area prone to severe weather conditions or frequent power disruptions.
6. Increased Home Value
Investing in a Liftmaster garage door opener can increase the value of your home. Potential buyers often appreciate the convenience, security, and advanced features that come with a modern garage door opener. This upgrade can set your home apart from others on the market and potentially attract more interested buyers.
7. Longevity and Warranty
Liftmaster is a reputable and trusted brand in the garage door opener industry. By choosing a Liftmaster opener, you can be confident in the quality and durability of the product. Liftmaster garage door openers are built to withstand daily use, ensuring longevity and reliability. Additionally, Liftmaster offers warranties on their products, providing further peace of mind and protection for your investment.
Summary
When renovating your home, don't overlook the benefits of installing a Liftmaster garage door opener. With enhanced security features, improved safety, quieter operation, smart technology integration, battery backup, increased home value, and the assurance of longevity and warranty, a Liftmaster opener is a worthwhile investment. It not only enhances the functionality and convenience of your home but also provides peace of mind and adds value to your property.
Got Questions? Let Us Help!
Started in 1987, Action Door Service specializes in the sale, installation, and repair of garage doors. Family owned and operated, we are a master dealer for Amarr and professional installer for LiftMaster. We also install matched wood doors for HOAs. Action Door Service also offers a wide variety of garage doors and openers to the Sacramento area. Customer satisfaction is our only goal! Call us today for your garage door needs!